Steve Aoki faz surpresa para fã mirim com doença grave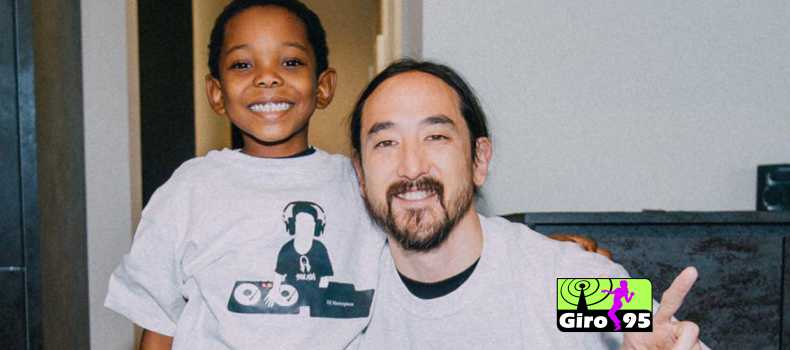 (Por:PhouseStaff) O pequeno DJ Masterpiece foi convidado para conhecer a casa do ídolo em Las Vegas.
Leia Mais:
Onde Steve Aoki consegue tantos bolos para jogar em seu público ?
A fundação Kids Wish Network, que realiza desejos de crianças com doenças que envolvem grave risco de vida, promoveu um encontro entre Steve Aoki e seu fã que completava seis anos, Jamar Woods — ou DJ Masterpiece, como prefere ser chamado. A reunião rolou na própria casa do astro americano, em Las Vegas, após convite do próprio.
A doença de Jamar e sua exata condição não foi revelada. O que se sabe é que a música é muito importante na vida do garoto, que sonha em ser DJ desde os dois anos de idade. Na visita, acompanhado de sua família, ele teve a oportunidade de  conhecer e brincar com o ídolo, além de trocar camisetas autografadas com ele e explorar sua incrível mansão.
No Twitter, os responsáveis pelo projeto publicaram alguns dos momentos mais especiais do encontro. Confira abaixo:
It`s #TravelTuesday ✈️ Wish kid Jamar who aspires to be a DJ & goes by DJ Masterpiece, was personally invited by @steveaoki to his mansion in Las Vegas!

WATCH Steve Aoki teach Jamar how to play the Piano in this heartwarming moment ❤️ #SteveAokihttps://t.co/sFIsyNqr7C pic.twitter.com/RHfGWioo1x

— Kids Wish Network (@kidswishnetwork) 5 de novembro de 2019
Check out @steveaoki`s newest collab featuring our wish kid Jamar a.k.a DJ Masterpiece! ❤️ Thank you so much to Steve Aoki & his team for piecing together this amazing video. #SteveAoki pic.twitter.com/reIf078htt

— Kids Wish Network (@kidswishnetwork) 8 de novembro de 2019
Para ajudar nas causas da Kids Wish Network, é possível fazer doações pelo site oficial.
Fonte: www.phouse.com.br