Em homenagem a Chester Bennington Steve Aoki lança mashup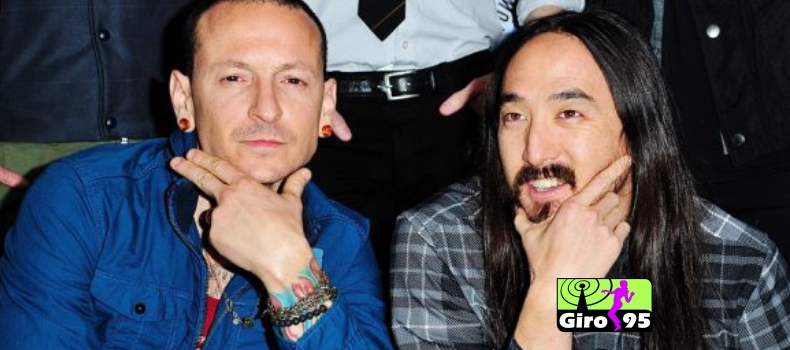 (Por:Phouse Staff) Steve Aoki também prestou sua homenagem a Chester Bennington.
Leia Mais:
Vocalista do Linkin Park Chester Bennington, é encontrado morto
Misturando duas faixas que fez em parceria com o Linkin Park — "Darker Than Blood" e "A Light That Never Comes" —, Aoki lançou o mashup "Darker Than The Light That Never Bleeds". O produtor também deu um depoimento honrando a memória do colega:
"Chester Bennington era o meu cantor favorito de todos os tempos. Eu me sinto incrivelmente honrado não só de ter trabalhado com ele nessas duas canções, mas sou profundamente movido por tê-lo conhecido como amigo. Ainda estou despedaçado por essa perda trágica. É difícil perceber que ele não vai voltar. Chester era um ser humano de valor inestimável que botou pra fora sua dor e paixão através do Linkin Park, tocando a vida de tantas pessoas.
Ele ajudou tanta gente que sentia coisas similares ao redor do mundo a gritar e sentir que não estavam sozinhos. A vida pode ser extremamente árdua e dura. Nada traz mais consolo do que saber que outros estão passando pela mesma dor. Chester era um ser humano lindo. Eu nunca vou esquecer nossas conversas e nossos momentos em estúdio, no palco, e na vida.
Agora temos Chester em nossos corações e mentes para sempre. Mantenham essa inspiração e essa paixão viva e escutem Linkin Park alto pra caramba. Gritem as letras o mais alto possível. Vivam esses momentos com tudo. Eu sinto sua falta, querido amigo. Você está em nossas mentes e corações para sempre. Chester para sempre".
A faixa já está disponível em várias plataformas para compra e streaming. Toda a verba arrecadada com ela será doada em nome de Chester para o One More Light Fund, da Music For Relief — ONG do próprio Linkin Park, que presta socorro às vítimas de desastres naturais.
Fonte: www.phouse.com.br